News & Events
Interested in Social Events, Workshops, BBQs, Cultural Programs, and more? Find out what's happening at BTGN right here!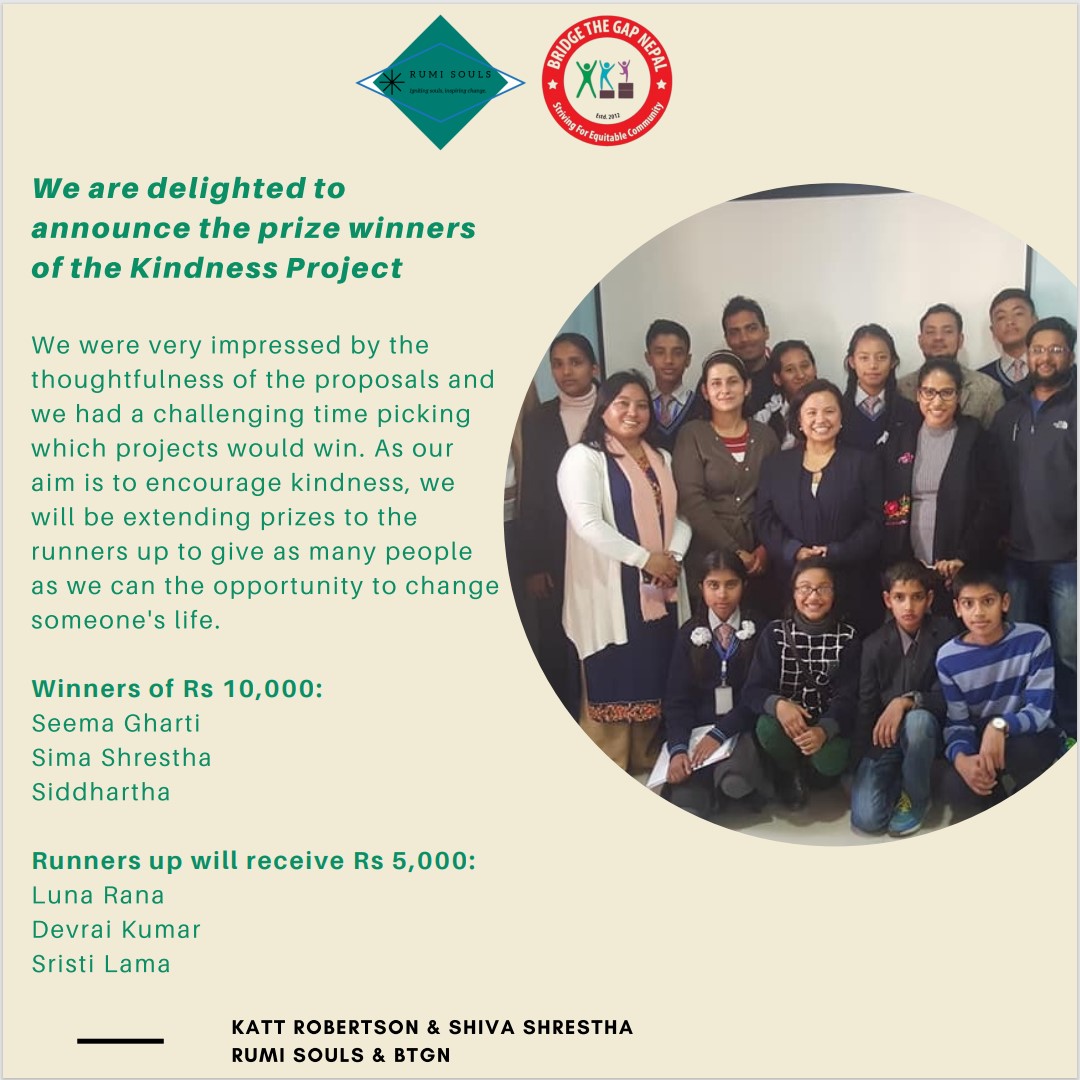 The Kindness Project
A collaboration between Rumi Souls and BTGN
The main aim of the Kindness Project is to inspire students and teachers to be the change they wish to see in the world.
Project Mission Statement:
One person can positively make a difference in someone's life by spreading kindness.
Project Overview:
The kindness project gives participants the opportunity to practice kindness and help someone in need through their assistance of making use of existing resources in innovative and sustainable ways. Participants are able to submit their project as a group or individual. The project is open to all students and teachers from Bright Vision English School, Phatakshila Secondary School, Janajyoti Secondary School and Akashganga International Academy. Participants should aim to do something innovative that has lasting change in a person's life. The prize will enable winning participants to implement their kindness project. Each winning submission will receive Rs 10,000 to spend on the project.
Submission Requirements:
One page written document outlining the project brief and a video pitch (maximum 5-minute video) explaining the following:
Why (Why you are doing the project) – 25%
What (What you will be doing for the project) – 25%
How (How you will implement the project) – 25%
Detailed financials on how the prize money will be spent – 25%
Submission date:
7th of December
Winners announced:
11th of December
Photos & video evidence of project completion due:
21st of December and posted on all Rumi Souls & BTGN social media channels
What does a winning project proposal look like?
Explains why the project is needed and the consequences to the individual /groups if the project is not undertaken
Explains the short term and long term benefits of the project
Explains the innovative and sustainable ways of using available resources and funds
Explains a clear plan on how the project will be implemented, documented and presented via photo and video as evidence of project completion