Vision, Values and Goals
BTGN is a progressive, not-for-profit organisation in Australia distinguished by the accountability of its programs, commitment of its members and determination for social impact.
BTGN exists to deliver culturally appropriate, equitable and engaged community programs for disadvantaged individuals and social groups in Nepal and Australis so that they become capable to identity and solve their problems. BTGN will work together with individuals, community groups, businesses, government agencies and stakeholders to translate the agenda of 'Striving for Equitable Community' and advance ideas and actions for progressive social change within diverse Nepali communities in Australia, Nepal and further afield.
BTGN has 5 core values that underpin its strategic focus and programs:
Commitment to social justice

Developing and implementing programs, projects and support services that are directly relevant and engaging to the poorest of the poor communities in Nepal

Embracing diversity and responsiveness

Recognising that Nepalese society is diverse and the diversity is a source of strength and inspiration. This diversity also means to be responsive to the needs and expectations of different groups differently; the needs of the poorer groups to be prioritized in the pursuit of enhancing equitable communities.

Collaboration and openness

Encouraging open discussion and constructive debate among individuals interested in Nepalese poverty alleviation programs; working together to deliver socio-culturally desired and financially sustainable outcomes to improve livelihoods of the Nepalese poorest of the poor; Programs, activities and financing of BTGN to be clear and transparent.

Professionalism and integrity

Delivering programs and projects with strong professional ethics and high integrity; delivering on our commitment and upholding decisions that are made.

Discipline and Respect

Fostering disciplined approach to BTGN initiatives, and maintaining honest, trusting and mutually respectful relationships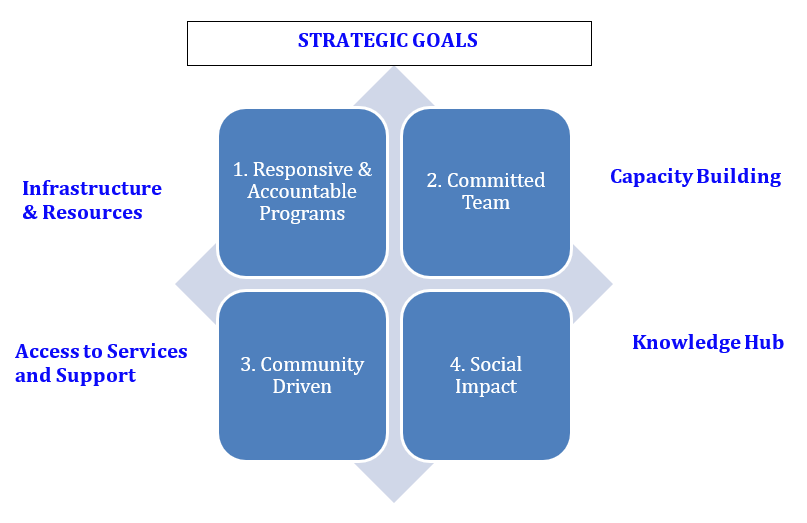 BTGN has four interconnected strategic goals:
Responsive and Accountable Programs

, focused on three sectors: Education, Health, Environment and People, with four cross-cutting elements, viz. a) infrastructure and resources, b) access to support & services, c) Capacity building, and d) Knowledge Hub

Committed Team
Community Driven

and

Social Impact, summed up in its motto, Striving for Equitable Communities.
BTGN's goals reflect following commitments:
Deliberation of issues with most disadvantaged individuals and groups as central
Bottom-up design of projects in education, health and environment
Accountable partnership with local communities and NGOs
Representative participation of poor communities
Legitimate local entrepreneurship